You are viewing applications of BFP Thermo® Pine
You are viewing applications of BFP Thermo® Pine
You are viewing applications of BFP Thermo® Pine
You are viewing applications of BFP Thermo® Pine
You are viewing applications of BFP Thermo® Pine
You are viewing applications of BFP Thermo® Pine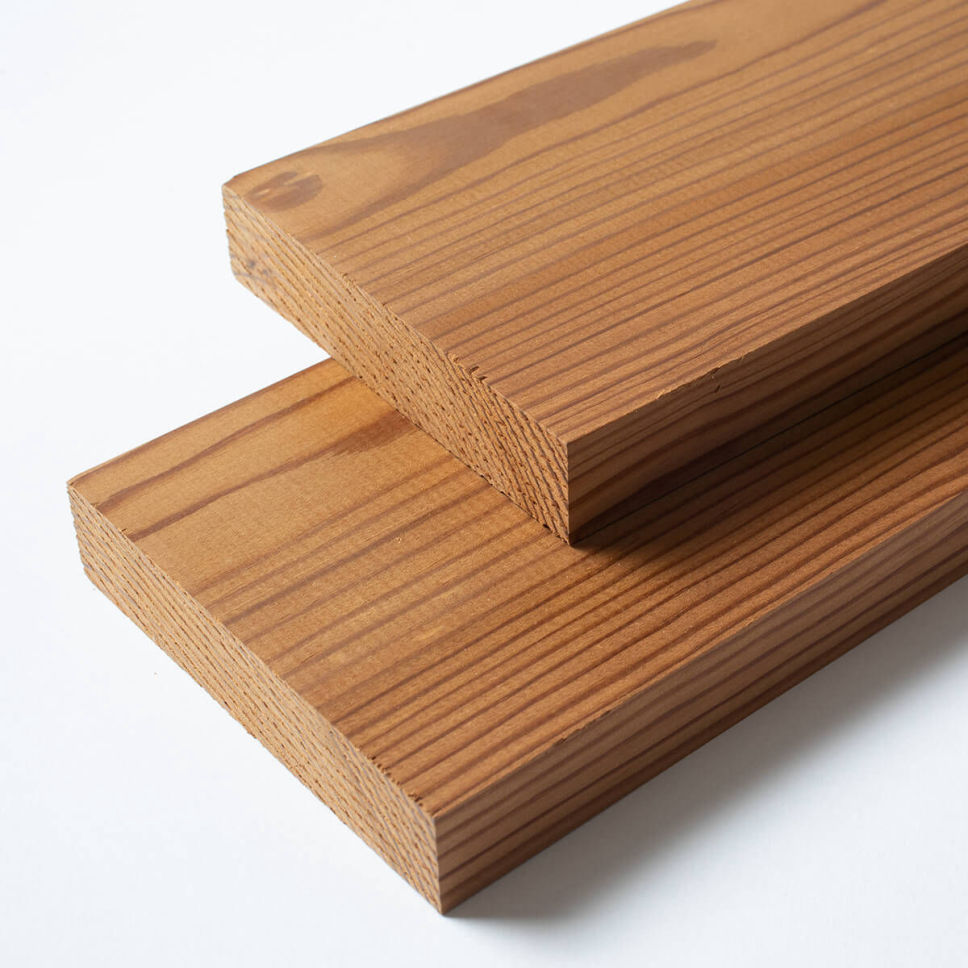 BFP Thermo® wood is proving to be a highly popular building material, especially for exterior cladding. It is affordable, environmentally friendly, and robust. Only heat, steam, and pressure are used to create BFP Thermo® wood from thermally changed wood. Special drying chambers with temperatures ranging from 160°C to 215°C are used to produce BFP Thermo® wood. According to BFP, one of the best
wood suppliers in India,
BFP Thermo® wood is nontoxic, recyclable, and natural due to the entirely ecological thermal treatment process.
The heat treatment procedure makes no use of chemicals.
No hazardous waste at the end of its lifespan
A moisture content of around 6-8% (+/-%)
Outstanding dimensional stability results in improved paint performance.
The color of BFP Thermo® wood can change depending on the length and degree of thermal treatment.
BFP Thermo® wood doesn't require surface treatment and should endure for several years. If left untreated, BFP Thermo® wood cladding may lose its color and turn silver gray, which is why some people prefer to stain it. BFP Thermo® wood exterior cladding can last 30 to 40 years if left uncoated, but if coated, BFP Thermo® wood may last 50 years if maintained according to the coating manufacturer's guidelines.
At BFP, we offer following Thermo® wood shades:
We at BFP, one of the best
wood suppliers in India,
only use spruce that is FSC® certified and that is sourced from sustainably managed forests in Northern Europe. Largely due to the presence of knots, spruce is distinctive. Along with other small flaws, the wood may have pitch pockets. Due to these characteristics, BFP Thermo Spruce seems vibrant and organic.
BFP Thermo Spruce is suitable for uses including:
 roof and façade cladding
Interior paneling
Decking
Thermo Pine is produced using a planned pyrolysis process, which is the breakdown brought on by high temperatures, to improve architectural balance, durability, and hardness.

BFP Thermo Pine is suitable for uses including:
Residential and commercial constructions
Decking
Exterior cladding
Pergolas.
According to BFP,
wood suppliers in India,
thermal ash is produced by a heat-treatment process that generates a product that is incredibly strong, stable, and visually appealing. This long-lasting, chemical-free method yields attractive, naturally thermally transformed wood products that are ideal for decking and cladding. To attain the highest environmental standard, we at BFP exclusively, one of the best
wood suppliers in India,
utilized wood that was FSC certified.
BFP Thermo Ash is suitable for uses including:
exterior wood cladding
Wood Decking
Exterior Furniture
Interested in discussing your project? Let's discuss!
Phone – :
+91 99920 23769
,
+91 97277 95221